Our Swymfit Classes are included with membership.
Swymfit Deep Water Classes (45 minutes)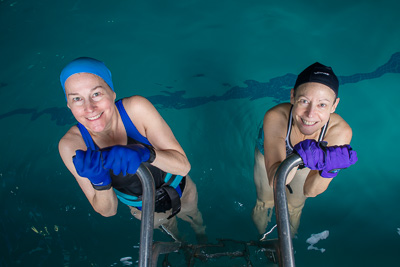 Using flotation belts for assistance and specialized water barbells and boards for resistance, our no impact deep water classes offer fluid and free movement without the impact stress common to most land-based routines.
For the out-of-shape or injured who wish to regain a baseline moderate level of fitness, we emphasize mobility by concentrating on balance and coordination and pain-free range of motion so you can handle everyday physical tasks more easily.
For moderately fit individuals who wish to improve or maintain their fitness, we add agility training to the mobility exercises. You'll see improvements to your core strength and body awareness along with better cardiovascular function.
For the athlete or highly fit individual, we add higher intensity conditioning and power training for a vigorous total body effect to get you better prepared for sporting competition or your own physical activities.
If you have never tried a Swymfit Class let us know.
These water based Swymfit classes were created by Swymfit's owner and founder Dr. Steve Victorson. Dr. Victorson holds a Masters Certification in the Burdenko Method, a practical application of water and land exercises based on a holistic approach to rehabilitation, conditioning, and training.
For additional tips on workout strategies, fitness, health and the world of athletics visit Steve at www.stevevictorson.com