Swordfish Swim Teams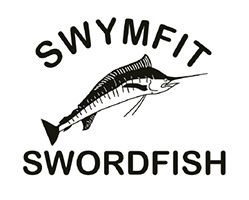 Swymfit is pleased to provide three different Swim Team opportunities for your children.
Our Senior Swim Team provides the most demanding practice schedule with up to four days per week of one and a half hours of practice.
Our Junior Swim Team practices up to three days per week, for one hour each session.
Our Novice Team allows swimmers to continue to work on their skills with a less demanding time commitment of one hour practices three times per week.
Swimmers on all three teams have the option of competing in all of the scheduled swim meets.
Novice Swim Team
For our swimmers ages 6 to 12
Level 5 and up: must be able to dive and comfortably swim 50 yds freestyle, 50 yds backstroke, 25 yds breaststroke, and 25 yds butterfly
Up to three, 60-minute practices each week
Practice Schedule
Tuesday, Thursday and Friday 5:00-6:00 pm
Junior Swim Team
For our swimmers ages 8 to 14
Level 5 and up: must be able to dive and comfortably swim 200 yds freestyle, 100 yds backstroke, 100 yds breaststroke, and 50 yds butterfly
Up to three, 60-minute practies each week
Practice Schedule
Tuesday, Thursday and Friday 6:00 -7:00 pm
Senior Swim Team
For our swimmers ages 12 to 18
Must have swim team experience. Must be able to do a racing start and comfortably swim 500 yds freestyle and a 200 IM.
Up to four, 90-minute practices each week
Practice schedule
Tuesday, Thursday and Friday 7:00-8:30 pm and Sunday 5:00-6:30 am